Under-the-Radar Spring Getaways
Skip the crowded beach for some of our favorite inland destinations.
Spring break is the perfect time to get away with the family - the kids have the week off, and everyone's ready to escape the winter blahs, Problem is, everyone else has the same idea! Overcrowded beaches and overbooked hotels can get in the way of your relaxation, and many restaurants in spring break destinations cater to wary tourists with boring menus full of the same old hamburgers and spaghetti. But when I travel, I like to get a taste of the place I'm seeing!
My solution? Steer clear of the beach altogether. There's lots more out there than just fun in the sun, and you just might find that your family connects better over arts and culture than sunburns and sand castles. These three destinations offer plenty of opportunities to de-stress, but they each have their own unique angle as well, from historic architecture to world-class dining.
We've pulled together some suggestions for where to stay, eat, and play in each of the three to get your travel plans started. No matter where you're headed, if you're planning a longer stay, Airbnb is a great option for accommodations, especially for large families traveling together. This year, why not live like a local in one of these brilliant destinations?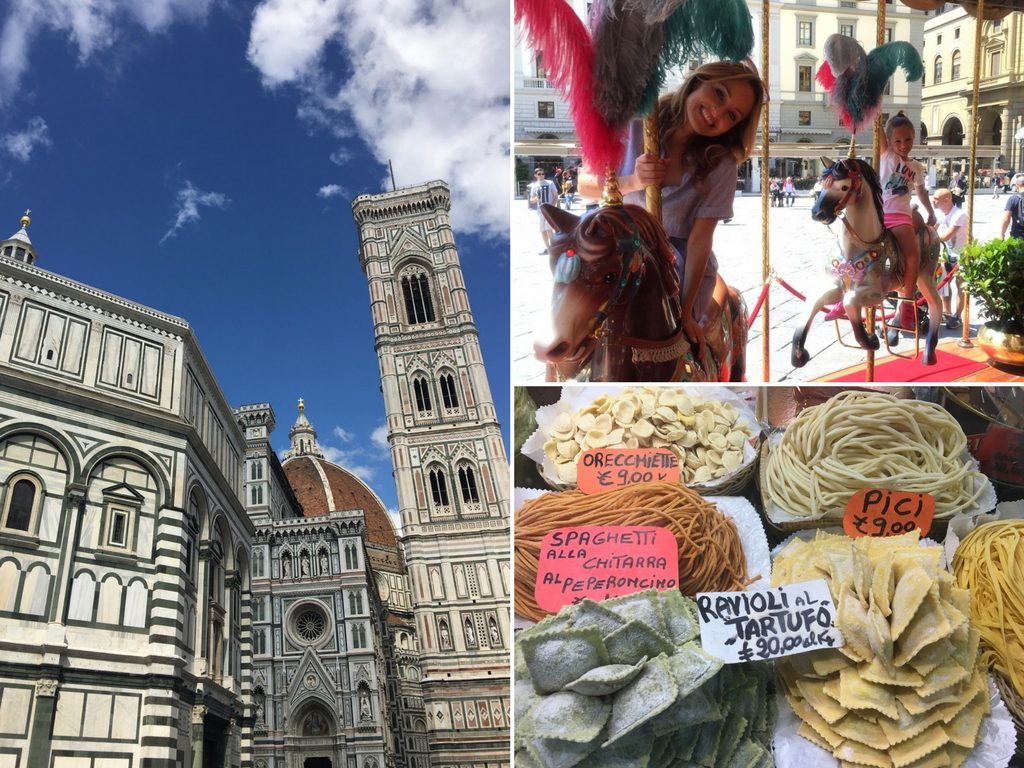 Florence, Italy
The birthplace of the Renaissance, Florence is a history and art lover's dream. Luckily, the Tuscan capital also has plenty to offer us food fanatics, from the world-famous
bistecca alla fiorentina
from local Tuscan cows to hearty street food and artisan cannoli.
Stay Here
Portrait Firenze
Lungarno degli Acciaiuoli 4, Florence
For a real splurge, this hotel on the banks of the Arno River has gorgeous rooms and offers a delicious traditional Italian breakfast spread. Look closely in the stairwells and you might spot a photo of my grandmother, Sylvana Mangano, a beloved Italian actress in the '50s and '60s. I discovered her by surprise the last time I stayed there - no wonder I felt so at home!
Gallery Hotel Art

Vicolo dell'Oro 5, Florence
The Portrait's younger sister, this funky hotel is located right next door, just a few minutes' walk from the Ponte Vecchio. As you might guess from the name, design is a priority here, with fun touches in even the most basic rooms. The hotel even curates rotating art exhibits in its public spaces, so you can get a head start on your museum-going.
Eat & Drink
Mercato di Sant'Ambrogio
Piazza Lorenzo Ghiberti, Florence
For a real foodie experience, set aside time to explore this 19th-century indoor market. You'll find traditional Italian meats, an abundance of local produce, and the all-important espresso stand. If you're staying in an Airbnb, this is the perfect place to pick up something fun to cook up at home! If not, you're sure to find something delicious to snack on.
Trattoria Cammillo
Borgo San Jacopo 57R
For a special night out, there's no place better than Cammilo. I filmed the Florence episode of
Giada in Italy
right near this very traditional trattoria, and it became hands down my favorite restaurant in town. In fact, it's the only place Aunt Raffy wanted to eat while we were here! We both love the chicken curry, fritto misto, and of course all the pastas. It's a bit pricy, but worth every penny.
Arà: é Sicilia Via Degli Alfani 127R
The amazing desserts being served here by Chef Carmelo Pacchiotti, who was kind enough to show me a few of his tricks on my last visit, are a can't-miss. The cannoli are truly out of this world, with a rich ricotta cream and crisp shell that's filled to order and topped with your choice of chopped pistachios, almonds, or candied orange peel.
Cibreo Teatro del Sale
Via de'Macchi 111R
Fabio Picchi is one of Italy's most well-known chefs, and this is the most unique of his restaurants. Tucked away in a members-only club, it provides the ultimate dinner and a show. Pay a nominal "membership fee" to get in the door, and a delicious three-course meal is just the start – you'll also get a live performance of either music, drama, or comedy, depending on the night.
To Do
Tour the Uffizi Galleries
The former palace of the infamous Medici family, the Uffizi began as a showcase for their incredible art collection (the entrance hallway is still lined with family portraits over the centuries). Now it's home to the world's best collection of Renaissance art, including famous works like Botticelli's Birth of Venus. Get there first thing in the morning to avoid the crowds!
Climb the Duomo
It took nearly 150 years to build this majestic cathedral, and it'll take you 463 steps to reach the top of its famous dome. But it's worth the hike! From the top, you'll have a panoramic view of the city, from the winding Arno and its many bridges over the terra cotta roofs of the city's villas to the Tuscan foothills off in the distance.
Ride the Merry Go Round in the Piazza della Repubblica
This 100-year-old carousel has been owned and operated by the Picci family for five generations. Its beautifully carved horses and painted scenes of the Italian countryside make it as much a piece of art as anything you'll see in a gallery - and it's a lot more fun, too! This was Jade's favorite part of our last visit to Florence.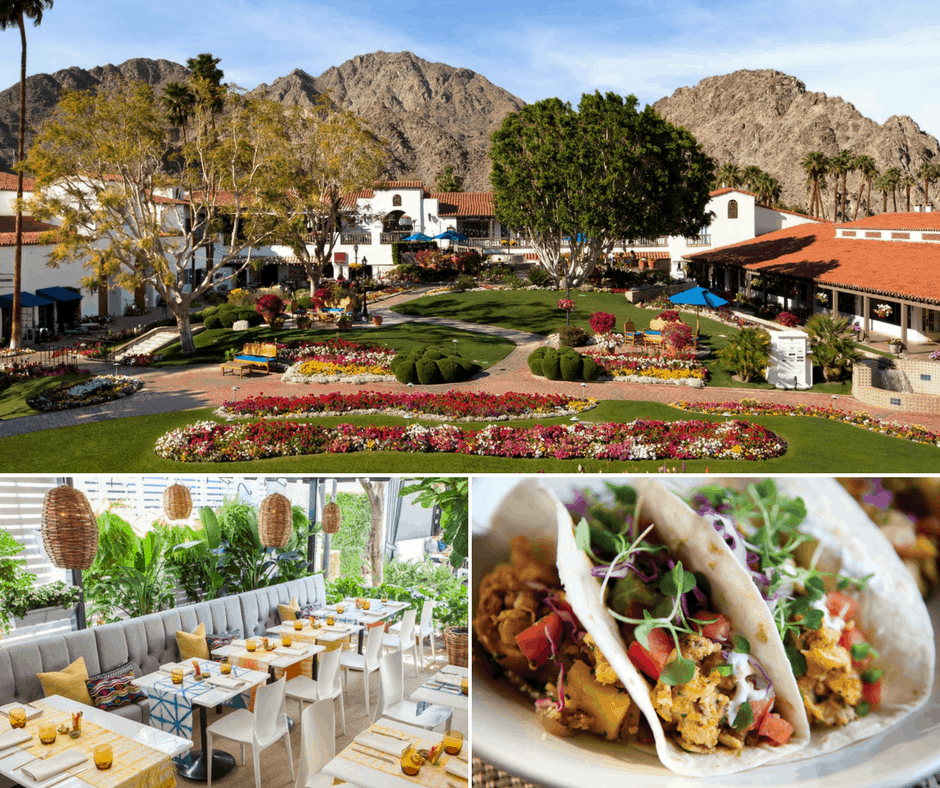 La Quinta, California
Out in the desert of the Coachella Valley, La Quinta is much quieter than its popular neighbor, Palm Springs, with all of the same desert charm. With a mix of towering palm trees and cascading mountains, it's the perfect escape from reality. For the links lovers, La Quinta has also been ranked the best golf destination in the U.S. Just make sure you check the schedule for Coachella and the Southwest Arts festival in Indio, or you'll find every hotel in the area is booked full of music lovers!
Stay Here
La Quinta Resort and Spa
49-499 Eisenhower Dr., La Quinta
Built in the 1920s, this resort was once a chic getaway for Hollywood stars. Snag one of the casitas if you can — they offer a real old-school Palm Springs experience, with built-in fireplaces and private patios. The best part? The property has 40 pools, which means there's no need to wake up at dawn to reserve your lounge chair. So go ahead, sleep in, and be sure to order one of their famous bacon bloody marys when you rise.
Eat & Drink
Cork and Fork Wine Bar
47875 Caleo Bay, La Quinta
One of the few newer restaurants in the area, this tiny wine bar is popular with locals and visitors alike - reservations are a must. The tapas are all wonderful, but if you're looking for something truly decadent, order the grown-up grilled cheese, with braised short rib and truffled spinach. You won't be disappointed!
Hadley Fruit Orchards
47993 Morongo Trail, Cabazon


Hadley's is famous for their dates, which may not sound that exciting if you're not a California native. But around these parts, dates are a lot different from the chewy dried fruit you find lurking in the back of the grocery store - these sweet treats are soft and bursting with caramel flavor. The best way to give them a try is in Hadley's famous milkshake. It's the stuff of local legend.
To Do
Pamper Yourself at the
Two Bunch Palms Resort
Hop into this luxury resort's famous grotto filled with healing mineral waters, a destination since the 1940s, or head to the spa for treatments ranging from their famous peat moss and clay mud baths to traditional massages and facials. If you can dream it, it's likely they have it on the menu!
Take a Day Trip to Palm Springs
Just a 30-minute trip from La Quinta, Palm Springs is a bustling hipster magnet, a great place to do some shopping and grab a meal or two. We're partial to brunch at Chi Chi in the Avalon Hotel, where the ambiance is great, and lunch at the Ace is always an experience — snag a seat by the pool, if you can. If you're in the mood for adventure, take a ride on the Palm Springs Aerial Tramway for some great views.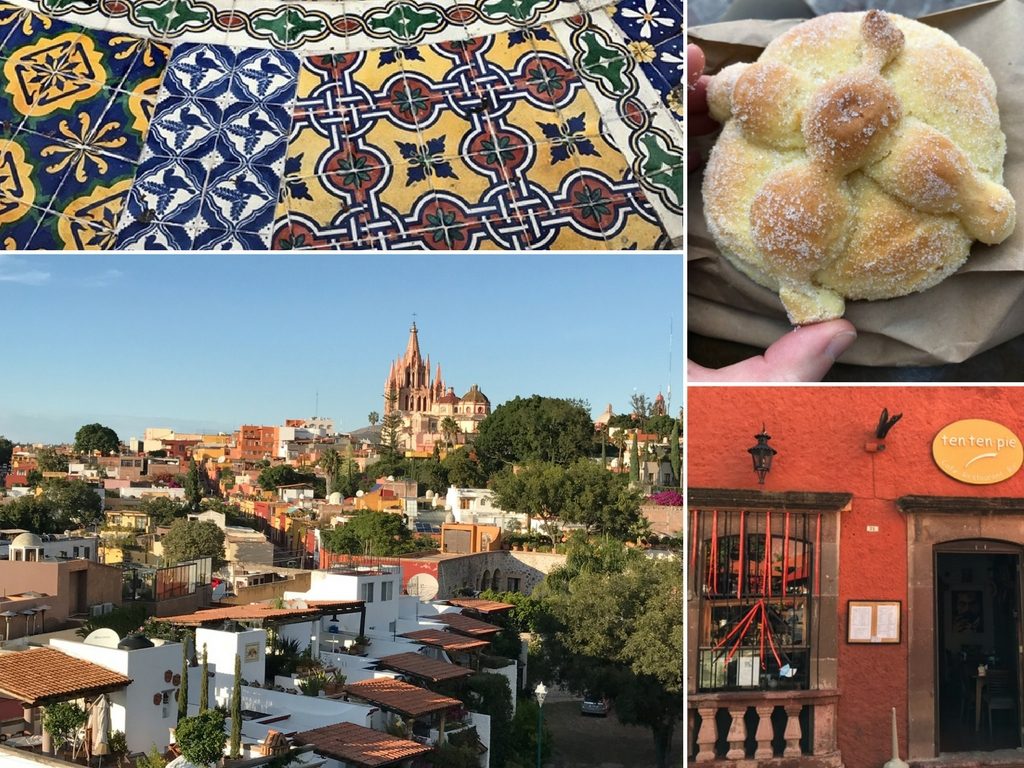 San Miguel de Allende, Mexico
This Spanish colonial town in Central Mexico was nearly abandoned at the beginning of the 20th century until it was rediscovered by artists who loved its historic center, now a UNESCO heritage site. The cluster of beautiful old buildings, painted in a rainbow of colors with elaborate Baroque flourishes, now house art galleries, restaurants, and small shops. The large ex-pat community here means the food is uncommonly good for this part of the country, and you can find everything from artisanal coffee to Paris-level patisseries.
Stay Here
Dos Casas Quebrada 101, Centro, San Miguel de Allende
This small boutique hotel was built from two adjoining 18th-century houses just a few minutes from the centro historico. Its spacious rooms have been outfitted with chic midcentury furniture mixed with traditional Mexican touches for a one-of-a-kind experience. Don't forget to save some time for a trip to the spa!
Belmond Casa de Sierra Nevada
Hospicio 35, Centro, San Miguel de Allende
One of San Miguel's most popular hotels, the Belmond is a luxurious treat. Many of the rooms are outfitted with fireplaces, and some have private terraces for the ultimate getaway feeling. Spend a day out by the gorgeous pool set in a garden-lined stone courtyard, or sip margaritas at the terrace bar.
Eat & Drink
Inside Café
Insurgentes 66, Centro, San Miguel de Allende
Co-owned by a New Zealand ex-pat, this hidden gem (follow the "Hello" sign up the stairs to reach the cafe and adjoining art gallery) is a must for serious coffee drinkers. It's probably the only place in town where you can get a flat white! Everyone who works here is super friendly, and the comfortable atmosphere makes it a prime hangout spot for local artists and students.
El Ten Ten Pie
Cuna de Allende 21, San Miguel de Allende
There are lots of high-end restaurants in San Miguel, including a brand-new outpost for Michelin-starred superstar chef Enrique Olvera, but this unassuming little spot offers one of the most satisfying meals in town. Stop in for lunch and feast on the most delicious tacos and guacamole, washed down with an ice-cold beer or limonada for the kids.
Luna Rooftop Bar at the Rosewood Hotel
Calle Nemesio Diez 11, Centro, San Miguel de Allende
A drink at this stunning rooftop bar is an absolute must, if only for the 360-degree views of the city below. Show up at sundown to catch the sunset, then stay as the lights begin to twinkle below as dusk falls. It's a truly magical, totally romantic experience.
To Do
Tour the Centro Cultural Ignacio Ramirez
Housed in an 18th-century convent, this fine arts center is now home to an art school, a museum, and a number of small galleries. Just as beautiful is the enormous courtyard, complete with burbling fountain and lush greenery - grab a cool drink at the outdoor cafe and take in the view in comfort.
Pick Up Souvenirs at Mixta
This eclectic, modern indoor/outdoor boutique located in one of the city's oldest buildings has something for everyone, from edgy clothing from contemporary Mexican designers to stationery, home goods, and jewelry. You're sure to find the perfect gift for all of your friends back home.