Giada's Guide To Positano, Italy
Positano is unlike any city in existence; a picturesque seaside town built along a cliffside.
It's one of my favorite places in the world, and its beauty is unparalleled. Positano is one of those places you always see on Instagram, and you think it can't possibly be so pretty in real life too - but quite the contrary. It has a magic that can't quite be captured in photographs, and if you have an Italy bucket list, I think it's one of the places you aught to try and cross off! There are a lot of misconceptions about this special town, however, so make sure you take a look at my guide to Positano - it's everything you need to know before you go!
---
GIADA'S GUIDE TO POSITANO, ITALY
WHEN TO GO?
Because Positano is such a haven of tourism, many businesses are only open during peak season - you won't find a lot of the restaurants and bars open during late fall and winter. Personally, I believe there are two ideal times to go: in April and May before the tourist crash of summertime and the flowers are all in bloom, or late September and early October after the masses of crowds have left! The weather will be warmer the closer to summer you visit, so if you have your heart set on swimming and laying out in the sun, your best bet would be to head there closer to summertime. You can still get lucky with perfect weather in spring and early fall - it's just a bit more of a gamble as you can face some rainy and gray days too! 
HOW DO YOU GET THERE?
There are a few ways to get to Positano, but personally, I find the absolute easiest way to be a private connection from Naples. Whether you're flying into Naples or you took a train there, you can get a private driver (
www.mydaytrip.com
is a great place to look - and you can even add sight seeing to your trip) straight to Positano. 
HOW DO YOU GET AROUND?
Generally... by foot! Positano has a long one-way road that zigzags through the cliffside town, and everything is walk-able for the most part. It's a lot of walking up and down hills and stairs, so be sure to bring shoes that you can get around in! 
WHAT SHOULD YOU PACK?
Positano is a pretty easy-breezy city, so even at the most sophisticated restaurants, you can get away with a sundress and sandals. Bring your leisurely swimwear, maxi dresses, and definitely a hat! Since the beaches are down a considerable amount of steps (depending on where you stay) it's wise to bring a tote bag with you that can carry all your necessities to be able to be away from your home-base for a couple of hours.

Most importantly - bring some good walking shoes! Most people are surprised when they head to Positano that you'll be climbing up and down lots of stairs and hills. We find it works out perfectly with all the food and limoncello we consume in Positano, but you have to be prepared with footwear!
Also be sure to always bring a lightweight jacket. The weather in Positano can be slightly unpredictable, especially earlier in spring and in later fall. Storms and rainfall aren't uncommon!
 
MORE TIPS
- Positano is an amazing town for souvenirs, so try to leave space in your suitcase or carry-on! Limoncello bottles, ceramics, shoes and more line the main street of Positano, and they're great gifts to bring back.
- If you go the route of renting an an AirBNB or something similar, splurge for a place with a deck or patio to look out over the amazing view. Nothing like a glass of wine or an aperitif during sunset in Positano!
- 
Rent a kayak!
-The main beach can get quite crowded, especially in summertime. Go for the other beach in Positano -
Fornillo!
It's much quieter, and still has a great view, chairs and kayaks to rent, and a little restaurant and accessible bathroom. You can go down the stairs to get there, and then take the path along the cliff to the main beach on the way back. From there, you can get back to wherever you need to go by walking up the main street.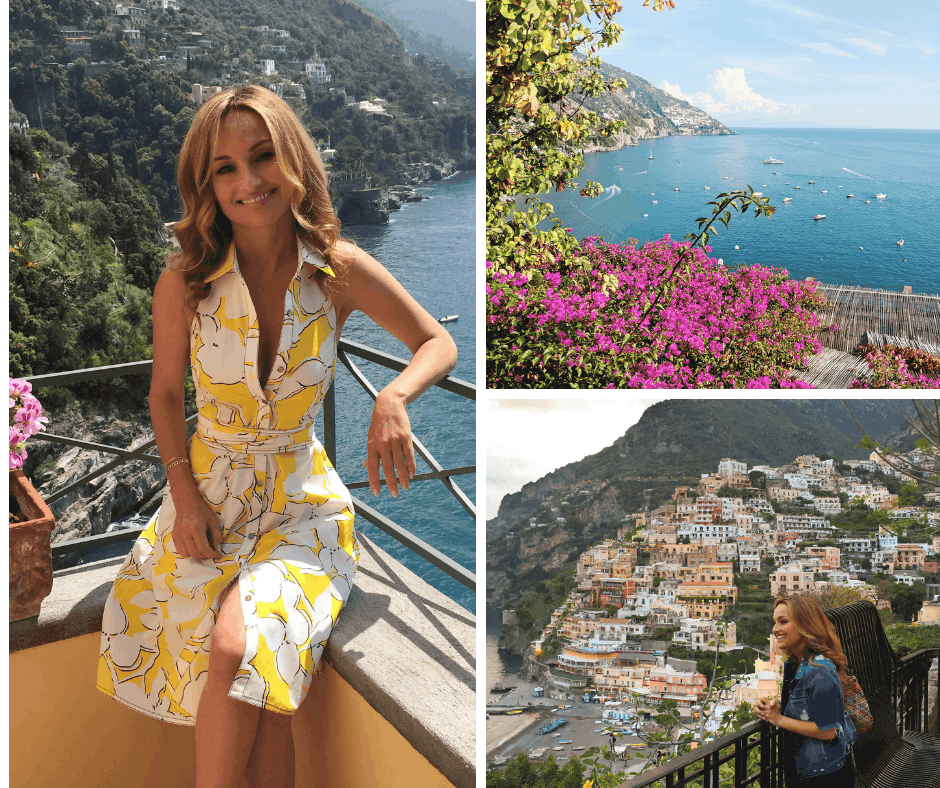 WHAT TO EAT
Bar Bruno
Via C. Colombo, 83 Positano SA, Italy
39 089 875392
I loved the spaghetti with meatballs, linguine with anchovies & fennel, eggplant Parm & tiramisu!
Buca di Bacco
Via Rampa Teglia, 4, 84017 Positano SA, Italy
39 089 875699
Casual Trattoria style food. Great Arancini and Octopus salad. Fab gelato at the beach level!
Casa E Bottega
Viale Pasitea, 100, Positano SA, Italy
39 089 875225
Smoothies, light lunches and fun homemade desserts. Great gift ideas.  
Casa Mele
Via G. Marconi, 76, Postiano
39 089811364
Modern Italian. Pasta Genovese is outstanding.
Le Tre Sorelle
Via del Brigantino, 27/29, 84017 Positano SA, Italy
39 089 875452
Best seafood in Positano! Love the seafood salad, zucchini alla scapece, calamarata pasta!
Next2
Viale Pasitea, 242, Positano SA, Italy
39 089 812 3516
romantic dinner spot!
Ristorante Max
Piazza dei Mulini, 22, 84017 Positano SA, Italy
39 089 875056
San Pietro Hotel
Via Laurito, 2, 84017 Positano SA, Italy
39 089 875455
Amazing modern, southern Italian food!
Tre Ville Villa
Via Arienzo, 30, Positano SA, Italy
39 089 812 240116
gorgeous Villa's $$$$, but great restaurant & bar!
Vincenzo
Viale Pasitea, 172, 84017 Positano SA, Italy
39 089 875128
WHERE TO STAY
Le Sirenuse Hotel
Via Cristoforo Colombo, 30, 84017 Positano SA, Italy
39 089 875066