Giada's Guide To Capri, Italy
Incredible views and classic glamour define this island off the coast of Italy - and here is Giada's Guide to Capri, Italy.
My love for Capri is well-known - I've been coming to this little island off the Amalfi coast in Italy since I was a little kid, and its gorgeous cliffs and colorful haven't changed a bit over the years. An iconic celebrity destination in the 1940s and '50s, the era of my grandparents, Capri still has an effortless glam that can't be found anywhere else. Tie a scarf around your hair and take a speedboat ride around the faraglioni, and you'll feel like a classic movie star. 
As a tourist destination, the main town of Capri and the smaller town of Anacapri are home to tons of fun boutiques. Handmade leather sandals are a must-buy here - they're incredible quality, unlike anything you can find back home - and I always end up taking home a few charming straw hats, purses, and beachy sundresses to complete the carefree, sun-drenched look.
Read on for Giada's guide to Capri, Italy - from the tips you need to know, from the places you have to visit!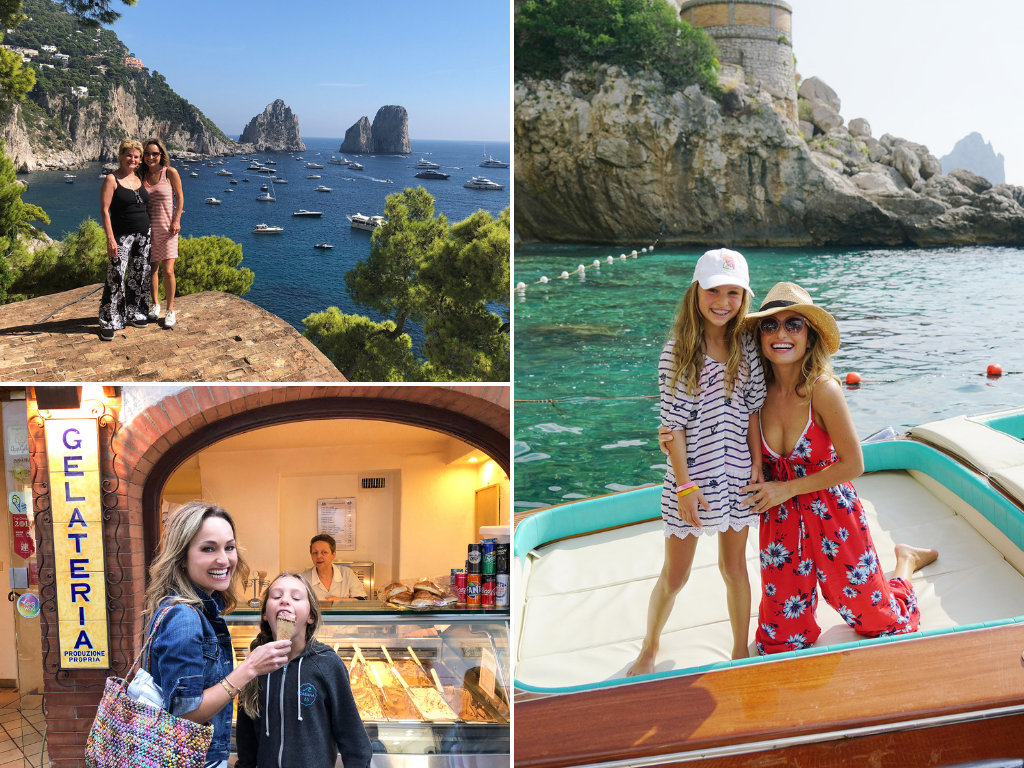 Giada's Guide To Capri, Italy
WHEN TO GO?
While we think of Capri as a year-round paradise, the times with the most ideal weather are actually pretty ephemeral. My favorite time to visit is the month of September, when the weather is warm and the tourist crowds of summer are just starting to die down. However, Capri is simply beautiful and temperate all the way from late spring until then. The weather starts to cool off a bit in October, and can be a gamble with a bigger chance of rain, but can be an absolutely beautiful time to visit as well. Late fall and winter make up Capri's off-season, and many restaurants and hotels won't be open during that time.
---
HOW DO YOU GET THERE?
Capri.net has a great comprehensive guide on how to get to Capri from wherever you are. Typically, you fly into a European hub like Rome, then take a smaller flight in to Naples. Then, there are two ways to get to the isle from there- either by private boat or ferry. Ferry is the most affordable option but it is slightly slower than a private boat. Private boats are quicker and more expensive but definitely an experience. However, if the water is choppy, it can be a wild ride - so it's not for the queasy! That said, I think it's a fun experience... and it knocks that jet lag right out!
---
HOW DO YOU GET AROUND?
Like most destinations on the Amalfi coast, riddled with hills and funny one-way streets, your best bet will be going around on foot (which works for me to offset all of the pasta and gelato I always eat!).
There are taxis off the main square or your hotel can help arrange, which are necessary if you're going to Anacapri, which is at the top of the island. Anacapri has much more affordable souvenirs (that's where I get my sandals from!) and it's worth a visit!
I should note that from the ferry or private boat you take to arrive in Capri, you must get a taxi to get to your destination - walking with your luggage is nearly impossible, and you don't want to get to your hotel frazzled and stressed!
---
WHAT SHOULD YOU PACK?
Because Capri is a coastal town, the attire is fairly relaxed while still being extremely elegant. In my grandfather's time, and still to this day, Capri is the isle movie stars frequented and it still carries that cache and glamour. Some of the most chic women and outfits I've seen have been here- especially if you pass by the Hotel Quisisana at aperitivo hour. Don't be intimidated though! I usually just pack lots of airy light sundresses that can be dressed up or down from day to night- it's still a beach town, after all.
Comfortable walking shoes are a must! I wear my sneakers everywhere in Capri. You might envision Capri as a paradise where you only need to bring sandals, but trust me - you'll walk a lot, and you'll be thankful to bring some good walking shoes. I like to have a trusty pair of white sneakers that match with nearly anything so that I can pack light! Bring a tote that you can stick sandals in if you want to transition your footwear for beach clubs or lounging.
Since weather is unpredictable no matter when you go, I always opt to bring a light sweater for cool evenings, and a just-in-case jacket. Usually a trusty denim jacket fits the bill!
---
MORE TIPS
If you're planning a longer trip to Italy and stopping in Capri, I recommend at least 2 days on the island. Day-trippers from all over Italy leave the island in the evening, and you can relish in the languid, serene island atmosphere at that point. To really see the sights and get a good sense of both Capri and Anacapri, you'll want to stay for a few days!
The best way to see Capri is by boat. You can dock a boat at most of the beach clubs and it saves you walking up the countless flights of stairs from the main squares. There are boat rentals all over the island, and you can rent a smaller boat or Riva for an afternoon-- it's also a great way to get an up-close look at the Faraglioni-- the islands most famous rock formations.
Be sure to check out more of our articles on Capri - like what dishes you can't miss here.

WHAT TO EAT
18-20 Via Fuorlovado, Capri
This 100-year old institution is famous for its pizza all'acqua, an exquisitely thin-crust pizza topped with mozzarella, basil, and spicy peperoncino. The recipe was cooked up in the '50s as a lighter pizza option for the restaurant's celebrity patrons who were watching their figures. Get one to start your meal, then follow it up with the super-creamy ricotta ravioli.
Via Arco Naturale, 3, Capri 
Take a short walk from the Capri town center for lunch at this restaurant partially set in a cave on the cliffside. The unobstructed views of the ocean would be worth the trip alone, but their pizza oven also turns out a delicious pounded chicken and wonderful pizzas. 
Via Vittorio Emanuele, 35, Capri 
I always make it a point to find the best gelato anywhere I go in Italy, and in Capri, this is it. The smell of homemade waffle cones baking lures you in from the sidewalk, and the rotating selection of seasonal gelato flavors never disappoints. When they have it, the pangragola (strawberries and cream) is a must!
Via Palazzo a Mare, 11, Capri 
A lunch under the century-old lemon trees at this restaurant was the inspiration for my famous lemon spaghetti, which I created to try to recapture its citrus-scented magic at home. I always make time for a meal here, with a stop at the serve-yourself antipasto table loaded with fresh seafood.
Via le Botteghe, 14, Capri 
Take your pick: creamy ravioli caprese scented with fresh marjoram at this 80-year-old family restaurant, or a late-night drink at their terracotta tiled wine bar across the street? Either way, you'll get super-friendly service and access to the family's enormous wine cellar, full of reasonably priced bottles. 
Chiosco Tizzano di Natalia e Antonio Tizzano S.N.C.
Viale Giacomo Matteotti 2, 80073 Capri
This stand in Capri is as picturesque as it is fresh and delicious, with gelati and juices of all kinds of local fresh produce. On a sunny island day, nothing beats a refreshing cup of tart, sweet icy lemon granita – trust! The stand is located along Via Matteoti near the Gardens of Augustus, and it's worth going to just for the picturesque lemons alone.
Via Mulo 77, 80073 Capri, Island of Capri, Italy
Farm and sea to table! We got fresh clams, spaghetti with zucchini, and spaghetti with lobster.
Via Faraglioni 5, 80073 Capri
Awesome stuffed squash blossoms. We ordered an array of pasta, and everything was great!
Via Krupp, 1
For lunch with a view, this is the spot to go. You can watch the sea and the famous Il Faraglioni while you eat! Fresh fish and unforgettable desserts are the star here, so don't skip out.

WHAT TO DO IN CAPRI
Via Cristoforo Colombo, 34, Capri
The best boat rental company on Capri, they offer everything from guided tours around the island to daylong excursions with stops for swimming or snorkeling in the incredibly blue waters. Make sure you book your boat at least 24 hours in advance!
The smaller of the two cities on the island, Anacapri is home to gorgeous 18th-century churches that rival the architectural marvels of Florence or Naples. Don't miss the Chiesa di San Michele's hand-painted tile floor, an enormous scene of Adam and Eve in the Garden of Eden, which you can see in all its incredibly preserved glory from the second-floor balcony.
Via Matteotti, Capri 
With a panoramic view of Monte Solaro, the faraglioni, and the , this botanical garden created in the early 1900s on the grounds of the mansion of a German industrialist who came to the island to convalesce and fell in love with its natural beauty. The terraced gardens bloom with fabulously scented local flowers like geraniums and dahlias for a peaceful retreat.
Via Capodimonte, 14 80071 Anacapri Naples, Italy
081 978 0111
A great spa with unbelievable views!

WHERE TO STAY
Via Camerelle, 2, Capri 
One of the biggest and oldest hotels on Capri, the Grand Hotel has been a celebrity mainstay since 1861, surrounded by beautiful gardens. Whether you stay here or not, the outdoor restaurant La Colombaia is a great place to spend aperitivo hour alfresco!
Via Capodimonte, 14, Anacapri 
For an unforgettable relaxation vacation, this clifftop hotel is the ultimate indulgence, with a stunning pool, private beach, and spa with unbelievable views.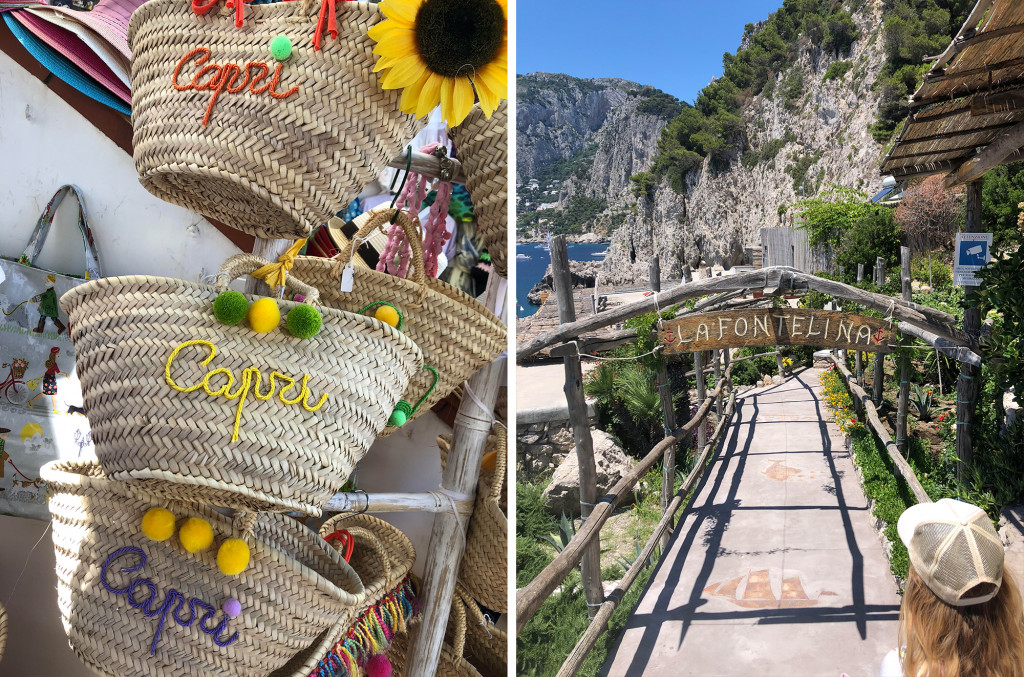 How helpful did you find Giada's Guide to Capri, Italy? Let us know in the comments!