You must be signed in to print this content
Author:
Giada De Laurentiis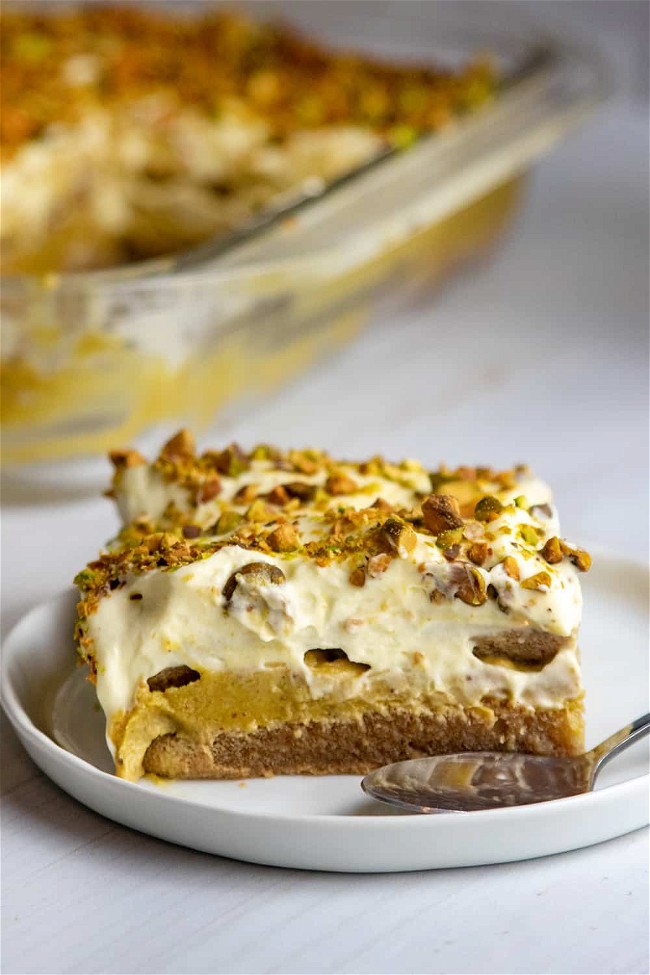 Ingredients
For The Pistachio Butter:

1 cup unsalted (no-shell pistachios, raw or roasted*)
2 tablespoons water
1/3 cup powdered sugar

For The Mascarpone Cream:

1/4 cup sugar
1 pound mascarpone cheese
6 egg yolks
1/2 teaspoon almond extract

For The Ladyfingers and Assembly:

1 1/4 cup espresso or strong coffee
1/4 cup amaretto liqueur
24 to 28 ladyfingers
Chopped pistachios for topping (optional)

*Cook's Note: If you can only find salted shelled pistachios, give them a quick rinse to get the surface saltiness off, then pat dry before using in the recipe.
Instructions
In a food processor, add the shelled pistachios. Blend the pistachios until they form a smooth thick paste. Once smooth, add the 2 tablespoons of water, 1/3 cup powdered sugar and olive oil. Continue to blend until the pistachio butter balls together and looks smooth and glossy. If using roasted pistachios, it will be a dark brown-green color. Set aside.
In a large bowl, using an electric mixer or stand mixer, beat egg yolks and sugar until thick and pale, about 5 minutes. Add mascarpone cheese and beat until smooth. Add the almond extract and mix. Remove 2/3 of the mixture into a separate small bowl. In the large bowl with the remaining 1/3 of mascarpone, add the pistachio butter. Mix on high speed until smooth and pale green, wiping down the sides with a rubber spatula as necessary.
In a shallow bowl, add espresso and amaretto liqueur. Dip each ladyfinger into espresso for only 5 seconds max (letting the ladyfingers soak too long will cause them to fall apart). Place half of the soaked ladyfingers on the bottom of a 9 by 9 inch baking dish, breaking them in half if necessary, to fit the bottom.
Spread the pistachio-mascarpone mixture on top of the first layer of ladyfingers, smoothing it out to evenly cover. Place the second half of soaked ladyfingers on top. Spread the rest of the plain mascarpone mixture on top to cover the ladyfingers.
Cover tiramisu with plastic wrap and refrigerate for at least 2 hours, and up to 24 hours before serving.
Before cutting and serving, sprinkle with chopped pistachios if desired.
Nutrition
Amount/Serving
% Daily Value
Carbs

31 grams

Protein

9 grams

Fat

51 grams

Saturated Fat

29 grams

Cholesterol

300 milligrams

Sodium

80 milligrams

Fiber

1 grams

Sugar

8 grams