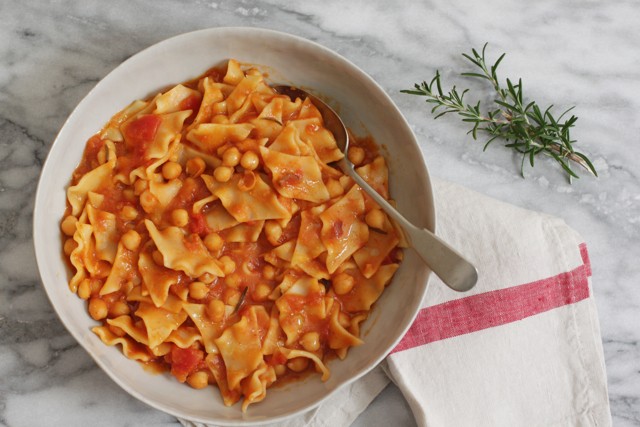 Ingredients
200 gr of dried chickpeas, or about 400gr of canned chickpeas

fresh bay leaf (if using dried chickpeas)
whole garlic clove
fresh rosemary
extra virgin olive oil
salt and pepper
Instructions
If you're using dried chickpeas, put them in a bowl covered with plenty of fresh cold water the night before and leave them to soak in the fridge. The next day, drain the soaked chickpeas and place them in a saucepan, cover with fresh water, add a bay leaf and simmer for a couple of hours or until the chickpeas are soft. Add salt to taste at the end. Don't throw away the cooking liquid – this is gold and you'll need it for the sauce.

In another saucepan, gently heat a smashed garlic clove, a sprig of rosemary (minus the twigs, or remove them before adding the chickpeas) and the chilli in a few glugs of olive oil. When it begins to get fragrant and soften, perhaps even slightly colour, add the tomato and let sizzle for a few minutes, the flavours mingling.
Add a ladle of the chickpea liquid (if you've used canned, use the liquid in the can) and about two-thirds of the chickpeas – set one-third aside and puree it before adding it to the saucepan to create a creamy, thick sauce. There are those that remove the lump of smashed garlic before adding the chickpea puree – but I love finding this in my pasta bowl. It's like a little prize, cooked to a sweet, mellow version of itself. I leave it in.
Add more of the chickpea liquid (or water or stock if you've used canned chickpeas) to the sauce until it is substantially watery, then add the dried pasta and cook until the pasta is al dente and the sauce has reduced. If you choose to use a long pasta, you may want to cook it separately in a pot of water then simply add it to the ready sauce.
The sauce should now be creamy, not watery, but not too thick either. Like a creamy soup. Season with salt and freshly ground pepper. Ladle the pasta e ceci into shallow bowls, pour over your very best extra virgin olive oil – a bright, peppery, green olive oil is the thing you need – more freshly ground pepper and then let it sit for a moment or two before serving as it will be piping hot and it needs to cool just a little to be best enjoyed. Plus, this gives the flavours in the dish a moment to mingle. I like this with plenty of grated Parmesan or Pecorino cheese, but there are those that like it without. Serve this pasta dish with a spoon.